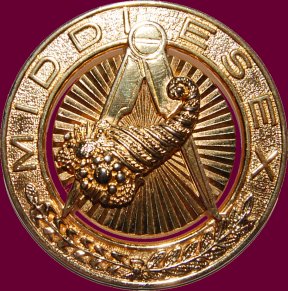 There are 10 to 12 Stewards selected from Lodges in the Middlesex Province annually.
Provincial Grand Stewards should be keen Past Masters who have demonstrated their potential for high office in the Province and who would be appointed soon after the Chair and, in some cases whilst still Master.
Provincial Grand Steward is to be seen as a significant appointment in a Masonic career.
To ensure that potential Provincial Grand Stewards are recognised, Visiting Officers are charged with spotting suitable Masters, Past Masters and others, for early appointment to the office.
At all the major Provincial events Stewards are readily identified by their red regalia and are looked to for assistance and advice by those attending. They play a major role in the Annual Provincial Service, frequently form part of the Escort of the Pro Provincial Grand Master and two Stewards are now allocated to the Deputy Provincial Grand Master and to each Assistant Provincial Grand Master as an escort when visiting Lodges. Members of the Lodge are also called on to assist in other events, such as the Annual Fete, Winter Wonderland, Consecration of new Lodges & the PMK Demonstration and Support team.
Current Rank, where shown, updated following Appointments and Promotions at Annual Meeting of Provincial Grand Lodge May 2019.
Please notify the Webmaster of any errors, omissions, or updates.